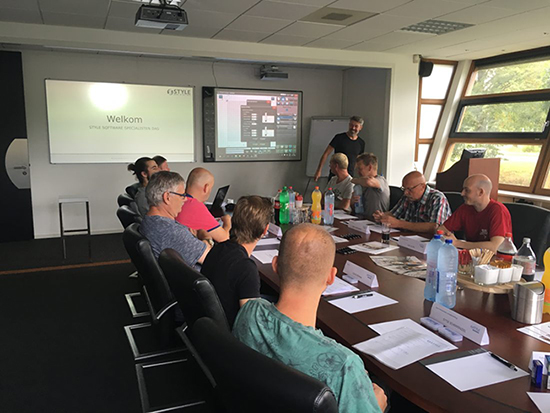 19 sep 2016

STYLE software specialistenmiddag: een middag voor en door specialisten

De eerste specialisten middag is vrijdag 16 september jl. met succes afgerond. Ervaringen en nieuwe ontwikkelingen werden besproken en gepresenteerd. Alle deelnemers hebben vooraf een vragenlijst ingevuld welke aanleiding gaf tot interessante discussies tijdens de middag. Functionaliteiten die de gebruikers dachten te missen zitten al in de besturing en de werking is verder verduidelijkt. De STYLE besturing maakt het mogelijk om complexe functionaliteiten te vereenvoudigen, zonder in te leveren op kwaliteit. Naast een update over de nieuwste software konden de vakgenoten uitgebreid elkaars uitdagingen bespreken.

De STYLE besturing is continue in ontwikkeling waarbij de functionaliteiten worden uitgebreid en processen worden verbeterd. De ervaringen van de gebruikers van onze besturing zijn voor ons de belangrijkste vorm van input. Dankzij onze gebruikers is onze besturing uniek in zijn vorm en worden enkelstuks en kleine series op de meest efficiënte manier geprogrammeerd. Deze middag draagt positief bij aan de ontwikkeling van onze software waarbij enorm veel winst is behaald voor zowel de gebruikers als voor STYLE.

Het was een ideale gelegenheid om in een korte tijd bij te praten met collega's over het gebruik van de STYLE besturing. Deze middag vol inspiratie en kennis werd afgesloten met een borrel en een snack. Nieuwsgierig naar een volgende specialisten middag of in onze machines en innovaties? Neem contact op via 033 – 205 25 00 of mail uw interesse naar m.vandijk@stylecncmachines.com. Graag tot ziens!